Pedagogy, Philosophy, and Nonsense Home
Essays and Links
Latest Essays:
Being Like Children
The Mug, the Magic, and the Mistake
-----------------------------
A Major is More Minor Than You Think
Thoughts About Picking a Major
Reading Poetry and Cloud Watching
What's the Subject of a Class?
Why Write? Legos, Power, and Control
Writing and Einstein: The Difference Between Information and Meaning
Writing and the Goldilocks Dilemma
Something Somewhat Vaguely Like a Resumé
POETRY
CREATIVE NON-FICTION (Essays not directly related to education or writing)
The Dawn, the Dark, and the Horse I Didn't Ride in On (an odd, philosophical, semi-romantic meandering)
The Mug, the Magic, and the Mistake
My Other Related Sites:
Showing Class: Writing by Current and Former Students
Pedagogy, Philosophy, and Nonsense by Forrest D. Poston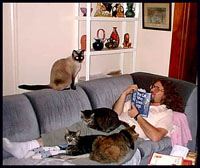 Years ago a teacher said he enjoyed conversations with me because I was "lucid." Other people don't always seem to agree. This site isn't likely to resolve the dispute, but spreading the confusion to a wider audience should produce some good conversation, one of life's greatest delights. I'll be posting ideas about general philosophy, education, composition, and bits of quirkiness that may occur late at night.
This site is for both students and teachers, anyone who likes to think, who wants life and education to be more than memorize, regurgitate and forget. Feel free to use or adapt the ideas here. Of course, I wouldn't mind getting credit, especially when the ideas work, but more than that I'd like people to get in touch. Let me know what you tried and what happened (or didn't). Ideas are like clay: the more you work it, twist it, squash it down and start over, the more workable and useful it becomes.
One friend with insight said I'm at my most serious when I appear to be joking. I'm also at my most irritating when my pompous aspect takes control. Just pretend that it's really an attempt at humor.
In the picture above, I'm the one with the longest fur over the least of my body. Forrest D. Poston, teacher, student, writer, auction junky, idealist, and cat cushion. I'm closing fast on 45, writing my dissertation, planning a composition textbook, and hoping to find a college that lets me teach students to do more than memorize, regurgitate, and forget. In the classroom, I do look marginally more professional, and just because I have long hair doesn't mean I'm a revolutionary. It hasn't been all that long ago (high school actually) that I had short hair, black plastic glasses and wore plaid polyester way too often. Still, I do have a tendency to bring out latent insecurities in some people without trying.
----------------------------------
Contact, Converse, Critique, Question
---------------------------------------